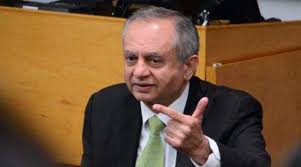 Dawood Invites Japanese Investors To Explore Investment Opportunities In Pakistan
Advisor to Prime Minister for Commerce, Textile, Investment, Industries and Production Abdul Razak Dawood invited Japanese entrepreneurs to explore huge opportunities in trade and investment in Pakistan.
While addressing a seminar titled "Trade and Investment Opportunities in Pakistan," in Tokyo, Japan, he underscored that the balance sheets of multi-national corporations in Pakistan itself reflect that they are making profits.
The Advisor urged the Japanese companies to look into the IT sector, small and medium enterprises and agriculture value chains for investment.

He called for taking advantage of Pakistan's strategic location for exports to the Middle East, Africa and Central Asia.
Abdul Razak Dawood highlighted Pakistan's massive investment in infrastructure projects with the potential to make Pakistan a regional hub for trade and investment.
He also elaborated the economic agenda of the PTI government under the leadership of Prime Minister Imran Khan and how it is determined to overcome the current economic challenges through peace-oriented, investment friendly, development focused and people-centered strategies.