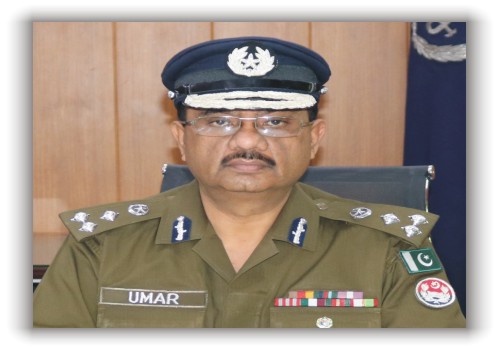 'Controversial' CCPO Lhr Sheikh's Appointment Again Challenged in LHC
By Our Web Desk
LAHORE– Capital City Police Officer (CCPO) Lahore DIG Muhammad Umer Sheikh, who has been facing severe criticism for his 'bad mouth', 'unparliamentary' language and 'anti-complainants' approach, has been left with another embarrassment today as his appointment had been challenged again in the Lahore High Court (LHC).
Justice Masood Abid Naqvi, who heard the case today, referred the writ application to the Chief Justice of LHC for hearing as a similar writ is already under hearing with the court of the chief justice.
The applicant through advocate Arshad Hussain has challenged that Muhammad Umer Sheikh is BS-20 officer while CCPO Lahore should be of the rank of Additional IG (BS-21).
The writ further mentions the rejection of Mr Sheikh's promotion by the Central Selection Board and further rejection of his application by the Islamabad High Court. The application seeks the CCPO's appointment annulled.
Additional Advocate General Jawad Yaqoob from government side earlier took plea that as the CJ is going to hear the similar writ on November 3 the same application be forwarded to the CJ.
Mr Sheikh came into lime light soon after he reportedly spoke against previous IGP Shoiab Dasgir in an official meeting of Lahore police. Soon after Sialkot-Motorway rape incident, the city police chief faced public anger and wrath over his awkward remarks against victim.
He has also got his reputation 'badly' damaged among the city police formations because of his unparliamentary language and harassment of police officials.
The CCPO has recently acquired 'sick' leave following his 'absurd' telephonic conversation with a female complainant.
The PTI-led Punjab government has been facing continuous 'humiliation' on social media since it appointed DIG Sheikh as CCPO.