Commissioner Lahore Mujtaba Inaugurates First Urban Forest In City
He also signs an MoU with Sailani Welfare Trust to set up 99 water filtration plants at different locations in Lahore
LAHORE– Commissioner Lahore Division Dr Mujtaba Piracha Saturday inaugurated the first ever urban forest by planting a tree with collaborative efforts of the government departments and civil society of Lahore. 
He planted trees of five different types of local species under the drive of clean and green drive.
DG Parks and Horticulture Authority Dr Faisal Zahoor, Additional Commissioner Muhammad Suhail Khawaja, Lahore Binale Foundation, Lahore Bachao Tahreek etc and special students from national special education institute participated in plantation.
The Commissioner Lahore, speaking on the occasion, said it had been decided to plant only local trees in urban forestry in Lahore and other areas.
Mujtaba said today 120 trees were planted on an area of 5 kanal under a planned design by experts to sustain the urban forestation.
He said civil society was working with government departments to initiate,design and sustain the drive which was a very promising step.
He said he was taking pride to plant first Lahore mini forest with special students of national special education institute.
He said 32 km right off way on both sides of road from Mehmood Booti to Kalasha Kaku, both sides of Lahore Ring Road, and 13 parks were available for forestation and concrete planning had been made to establish Lahore mini forests to combat pollution, smog and oxygen deficiency. The Commissioner Lahore today planted five types of indigenous plants and total 120 trees were planted on 5 K  anal area of Johar Town Lahore.
MoU for 99 water filtration plants in Lahore
The Commissioner Lahore Division and Sailani Welfare Trust today signed an MOU to establish 99 water filtration plants in Lahore at different locations.
Commissioner Dr Mujtaba Piracha and President Sailani Welfare Trust Yousuf Lakhani signed the MoU.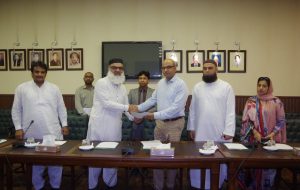 During the signing ceremony, Deputy Commissioner Lahore Saleha Saeed, Additional Commissioner Suhail Khawaja, Manager Lahore Sailani Trust Izhar Hussain and others were also present.
The Commissioner said Sailani Trust was going to accomplish another very big and noble initiative and administration would provide full cooperation in that regard.
He said the trust would work on non functional and installations new water filtration on their own-self.
He said initiatives of Sailani Trust would also expanded in other districts as well, adding during upcoming  Ramadan, Silani Trust was also going to increase number of dastarkhwan in Lahore.–PRESS RELEASE