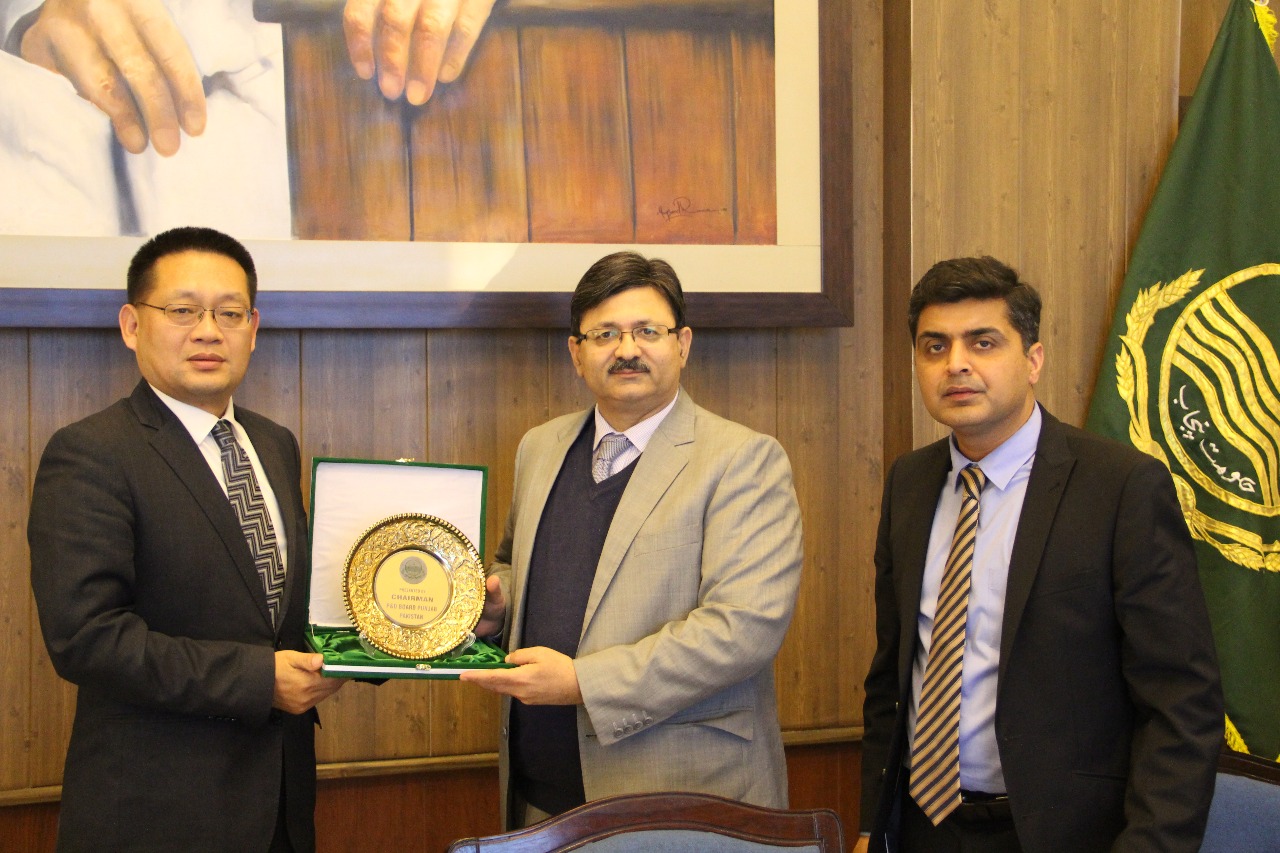 Chinese Experts, P&D Discuss Projects Proposal Of Punjab For Socio Economic Development Under CPEC
LAHORE (PRESS RELEASE)–A Chinese delegation today visited the Planning & Development Department Punjab to hold discussions on projects proposal of Punjab for Socio Economic Development under China Pakistan Economic Corridor (CPEC).
Habib-ur-Rehman, chairman P&D Punjab, said China is extending close cooperation to Pakistan under CPEC while ignoring any kind of negative impact of internal issues and challenges.
The delegation of Chinese Expert Team on Socio Economic Development was led by Director General China International Electronic Commerce Centre, Professor Senior Engineer Du Zhenli and his ten team members visited P&D Complex on Monday Noon.
Provincial Secretary P&D Iftikhar Ali Sahoo, Joint Chief Economist P&D Board Dr. Aman Ullah, all administrative secretaries, Members P&D Board, Senior representatives of Chinese Experts Group Ms. Dong Le Deputy Director CIECC Senior Engineer, Ms. Zhang Meng Engineer CIECC, Wang Haimin Associate Professor China Agricultural University, Mr. Simon Interpreter, CRBC China and other relevant officials attended the meeting.
In the meeting, administrative secretaries of Punjab government gave their perspective project proposals related to development sectors.
Addressing the participants, Chairman P&D appreciated the efforts and commitments of both countries on key CPEC related Socio Economic Development Projects and also hoped that these development projects and their implementation will result in prosperity for the people of Punjab.
With a special focus on development of the down trodden areas, these projects will also result in regional equalization bringing under developed areas at par with developed ones, he disclosed.
The initiatives of the provincial government focus more on economic growth, human resource development, agriculture productivity, public private partnership and social and equitable development.
As a result of these initiatives and aforementioned features of the development programme, the Annual Development Programme (ADP) is more aligned with the growth strategy objectives and CPEC framework, and will further enable the accomplishment of Sustainable Development Goals (SDGs), he added.
Punjab is supporting the federal government in finalising the long-term plan (LTP) for CPEC by ensuring its sectoral priorities and targeting the regional socio-economic needs. There is an urgent need to identify projects pertaining to the sectors of interest to promote sustainable economic activity that may eventually result in a high employment rate, balanced urbanization and a developed services sector.
At the end, Chairman P&D Habib-ur-Rehman Gilani presented a shield to the Leader of Chinese Delegation Du Zhenli DG, CIECC.