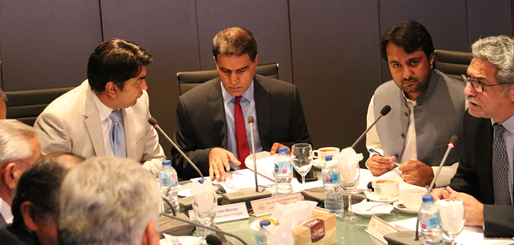 LAHORE– The 14th Commission meeting of Punjab Higher Education Commission (PHEC) was held on September 25 at Arfa Software Technology Park Lahore.  
Chairman Punjab Higher Education Commission (PHEC) Prof Dr Fazal Ahmad Khalid presided the Commission meeting.
Other members who attended the meeting included Secretary HED Dr Raheel Ahmed Siddiqui, MPA Mr. Sajid Ahmad Khan, Vice-Chancellor KEMU Prof. Dr. Khalid Masud Gondal, Vice-Chancellor University of South Asia Mian Imran Masood, Vice-Chancellor Islamia University Bahawalpur Prof. Dr. Athar Mahboob, Former Vice-Chancellor Government College University Prof. Dr Khalid Aftab, Former Vice-Chancellor Government College University Dr Khaliq-uz-Zaman, Former Principal National College of Arts Dr. Nazish Attaullah, Professor at LUMS Dr. Arif Nazir Butt, Chairman Madina Foundation Faisalabad Mian Muhammad Hanif.
Representatives of Secretary Specialized Healthcare and Medical Education, Secretary Agriculture and Secretary Finance, Govt. of Punjab also attended the Commission meeting.
Honorable Minister for Higher Education, Raja Yassir Hamayun Sarfraz specially graced the meeting, addressed the members of the Commission and gave policy guidelines for the future roadmap of the higher education sector in Punjab and to make a 10-year roadmap.
Addressing participants, the honorable Minister stressed to focus more on quality rather than increasing access to Higher Education. He desired that PHEC needed to monitor all HEIs to ensure that their functioning should be in accordance with their approved Acts.
On the behalf of Government, the honorable Minister assured the fullest support towards strengthening of PHEC. Minister also said that PHEC and Federal HEC, both were working towards ameliorating of the higher education sector of the province in their own domains effectively.
The major agenda of the meeting included matters related to accreditation and quality assurance of private universities/HEIs, human resource development, capacity building/training, academics and research-related matters, approval of the budget, and separate/independent building for PHEC.
Chairman PHEC Prof. Dr. Fazal Ahmad Khalid thanked the honorable minister for his personal support towards the Higher Education Sector and especially to the PEHC. The Chairmen PHEC also briefed the Commission members about the contours of Higher Education ROADMAP of the province.
Chairman PHEC informed that PHEC is working in collaboration with HEC and HED to bring reforms in the higher education sector. Chairman also briefed about the progress of PHEC, MoU's signed by PHEC and about his meetings held with Governor Punjab and other decision-makers.
Chairman PHEC also briefed the Commission members about the adaptation of ADP degree in the province and future steps to achieving the quality in the ADP program. He also assured to follow the set criteria for accreditation matters and ensure compliance in an effective manner.– PRESS RELEASE