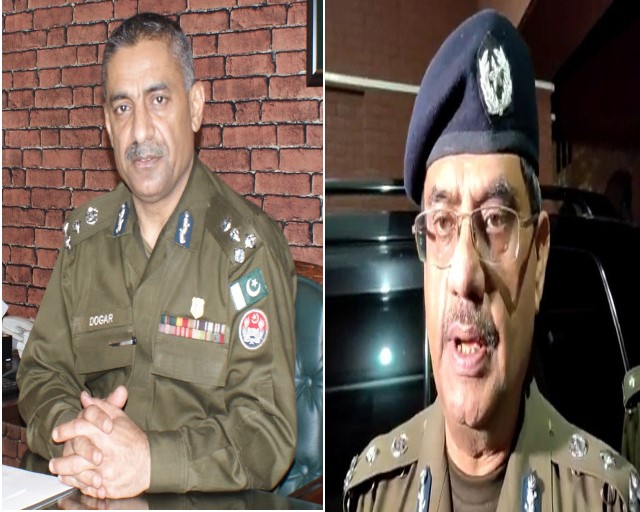 CCPO Umer Sheikh Removed Unceremoniously; DIG Ghulam Mehmood Dogar Gets CM's Nod to Lead Lahore Police
-- The transfer of DIG Sheikh, who got baking of a senior government official in Islamabad, came as big surprise for entire Punjab bureaucracy
By Our Web Reporter
LAHORE– In yet another 'unceremonious' tactic, Punjab Chief Minister Usman Buzdar has removed Lahore's city police chief DIG Muhammad Umer Sheikh from his post only after a couple of months.
After getting green signal from the Prime Minister's Office, CM Buzdar approved the removal of Sheikh from the post of Capital City Police Officer (CCPO) and appointed DIG Ghulam Mehmood Dogar in his place.
According to a notification issued by the Services and General Administration Punjab, Sheikh has been transferred "with immediate effect". He has been posted as the DIG/Deputy Commandant Punjab Constabulary, Farooqabad.
Sheikh's replacement Ghulam Mehmood Dogar is also a BS-20 officer of the Police Service of Pakistan.
Before being tasked with the assignment, Dogar was posted as the DIG of Technical Procurement at the Central Police Office of Punjab.
Sources in the Chief Minister's Secretariat told Lahore Mirror that the names of DIG Dogar and RPO Multan Waseem Ahmad Khan Sial were under consideration even before the appointment of DIG Umer Sheikh as CCPO.
The CM, this time, considered DIGs GM Dogar, Waseem Sial and Tariq Abbas Qureshi for the CCPO Lahore, sources claim. Dogar, who belongs to 21st Common, is likely to be considered for the promotion to the rank Additional Inspector General of Police in upcoming promotion board scheduled to be held on January 4.
Police circles believe that DIG Dogar having diversified experience of field policing would be a good choice for Lahore.
They say DIG Sheikh, who was the choice of federal government and got strong backing of PTI government after his controversial statements in connection with Sialkot Motorway rape case and public outrage, started showing defiance to the sitting IGP in matters of transfers and postings in Lahore police and that he also avoided taking calls from the CM Secretariat apparently assuming that he is so powerful now and could not be transferred even by the Chief Minister.
The serious 'indiscipline' with the senior command during official meetings was also one of the contributing factors that led to his premature transfer.
DIG Sheikh, who was superseded in the previous board in 2018, is likely not to be considered for the promotion to the ran of Additional IG.
Umer Sheigh remained controversial cop
Umer Sheikh had constantly landed in controversy ever since he took the post of Lahore CCPO last year.
The police officer had immediately landed in hot waters when he got involved in a dispute with former Inspector General of Punjab Police Shoaib Dastagir.
Following the dispute, Dastagir was removed from his post and Inam Ghani was brought in as the new police chief of Pakistan's largest province.
Sheikh later landed in another controversy when he issued victim blaming remarks in the motorway gang rape case.
In both the cases, the former Lahore CCPO had apologised for his remarks.
During Sheikh's tenure as the CCPO he was involved in multiple conflicts with police officers of his department. In one of the conflicts Sheikh had ordered a registration of a case against a senior police officer for misbehaving with him.
Under his tenure a foreign educated cop had also resigned from his post because he was abused by the former CCPO in a meeting.
The controversial cop had also recommended that the police should start carrying out court-martial of police officers similar to the armed forces to prevent frequent misconducts that could not be addressed through the existing rules of the Police Department.
Feedback from  subordinates
A police officer, who served under DIG Sheikh, is of the view tht a dense hatred nurtured among policemen from constable to DIG ranks against the CCPO as his behaviour with subordinates was hateful. The entire force remained demorliazed.
"The crime unleashed in the district as officers were under strong impression that if something had gone wrong with the CCPO's command."
The ugly and indecent remarks by CCPO against PSP officers during meetings were also common.
Ghulam Mehmood Dogar's profile
DIG Dogar has previously served Punjab police as Regional Police Officer (RPO) Faisalabad and Sahiwal, City Police Office Gujranwala and Multan, DIG Operations Lahore, and Chief Traffic Officer Lahore.