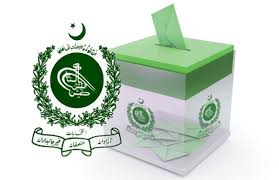 By Faisal Ali Ghumman
LAHORE: The fever of pre-election campaign by all political parties contesting July 25 polls came to an end throughout the country at midnight on Monday, leaving the fate of the country's next reign at the mercy of millions of voters.
The campaign by Pakistan Muslim League-Nawaz, Pakistan Tehreek-e-Insaaf, Pakistan People's Party, Muttahida Majlis-e-Amal, Awami National Party, Muttahida Qaumi Movement-Pakistan and other parties side by side a good number of independent candidates reached its peak in result of door to door visits, corner meetings, public meetings, electronic and print media and social media.
Winding up their campaigns all contestants made last ditch efforts to garner maximum public support.
Over 12,570 candidates are vying for National Assembly and four provincial assemblies. Against the National Assembly seats, as many as 3,675 candidates are in the electoral race whereas 8,895 for the provincial legislatures.
From Sindh, 872 are contesting for the National Assembly seats and 2,382 for the provincial assembly.
For Balochistan's National Assembly seats, there are a total of 303 candidates and 1,007 for its provincial assembly seats, including 287 general seats of National Assembly and 943 seats of the Provincial Assembly.
In Islamabad, seventy six candidates are in the race for three seats of National Assembly.
According to the electoral rolls, up to 105.96 million voters are eligible to cast vote. In all, 85,307 polling stations have been set up across the country. Over 20,000 polling stations have been declared sensitive and CCTV cameras have been installed inside and outside these polling stations.
As many as 450,000 policemen and three hundred thousand army troops will be deployed on the polling day. It will be public holiday on the polling day on Wednesday.
Current political scenario hints face-to-face encounter between PML-N and PTI
The so far political scenario strongly suggests the one-on-one competition between the Nawaz-led PML-N and former cricketer turned politician Imran Khan of PTI as both parties have apparently proved their heavy presence in the hearts of masses.
As the PML-N is currently facing the heat of imprisonment of top leader Nawaz and family in Panama-led cases and Mian Shehbaz Sharif is somehow leading the party on all fronts, the PTI has succeeded in mustering support from the powerful corridors.
The entry of Tehreek Labiak Ya Rasoolullah into elections has also surprised many as a school of thought intends to vote for its candidates in the name of protecting the sanctity of Prophet (PBUH).
Apparently PML-N is seen losing vote from religious segment of the society in the wake of removal of clause of Khatam-e-Nubuwat (Prophet Muhammad SAW is the last Prophet) from the Elections Bill 2017.
On the other hand, PTI has somehow managed to muster support from the young generation and women who think it's time to give an opportunity to Imran Khan to serve the country contrary to PML-N and PPP who have given nothing to the nation except poorest law and order, rising unemployment, poverty and inflation, collapse of manufacturing industry, social sector disaster and debt-burdening.
People of Pakistan, who are seen charged with the political debates all the time now-a-days, do expect from the Election Commission of Pakistan, Pakistan Army and the caretaker government to ensure transparency and fairness in the entire polling process and let the people decide the destiny of any party to win.