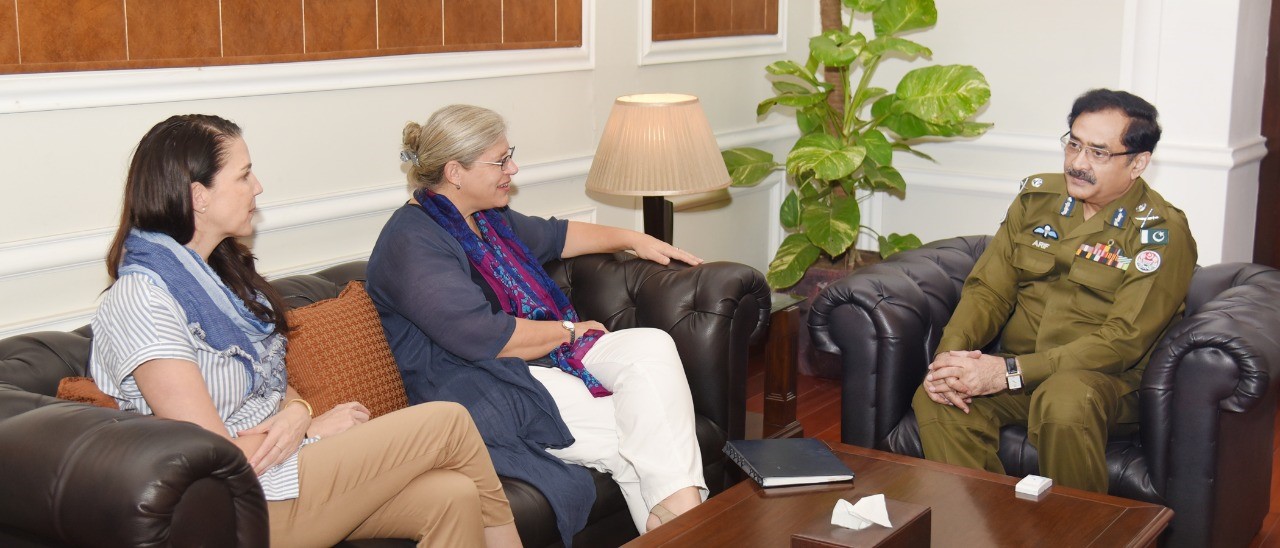 Canadian HC, IGP Agree Upon Enhanced Information Sharing to Bust Drug Dealers' Network
Three member Canadian High Commission delegation calls on IGP Punjab Captain (retired) Arif Nawaz Khan at the Central Police Office
LAHORE– Punjab police are effectively using information technology based modern policing to protect wealth and lives of citizens and eliminating anti social elements, Inspector General of Punjab Police Captain (retired) Arif Nawaz Khan said on Friday.
For monitoring and surveillance of different districts like Lahore, Kasur, Sialkot, Mianwali and other districts of the province, a modern integrated smart and surveillance system has been launched to improve security arrangements of sensitive places, educational institutions, worship places of minorities, he added.
The IG further said to enhance efficiency of police force, school of investigation has been established and training syllabus have also been upgraded along with other projects whereas information based operations are also underway to decimate network of drug peddlers.
He said that the objective of these operations is to save the young generation from these activities by eliminating anti social elements permanently.
Khan was speaking to a three-member delegation of Canadian High Commission at the Central Police Office.
The delegation consisted of Wendy Glimour, Joanne Minns and Parham Faraid.
Issues of mutual interest like efforts of Punjab Police in war against terrorism were also discussed whereas consensus was accorded between two institutions to enhance information sharing in order to launch operations against drug dealers and their network a more effective.
IGP Punjab apprised the delegation about safe city and other many modern projects and told that cameras of safe city have played and effective and significant role in tracing different cases of terrorism including blast of chairing cross and Data Darbar.
IGP told that by the help of modern means of technology, Punjab Police is nearing to the elimination of terrorists, their facilitators and financial networks.
Canadian delegation applauded the timely action of Punjab Police against terrorists, miscreants and anti social elements of the society.
On this occasion, Canadian High Commissioner, Miss Wendy Gilmour was of the opinion that launching of monitoring and surveillance system in small cities is a good step and it will be helpful in controlling criminal activities.
During the meeting, mutual information sharing and cooperation between Punjab Police and Canadian High commission was agreed upon whereas IG Punjab and Canadian high commissioner exchanged memorial souvenirs between each other.— PRESS RELEASE