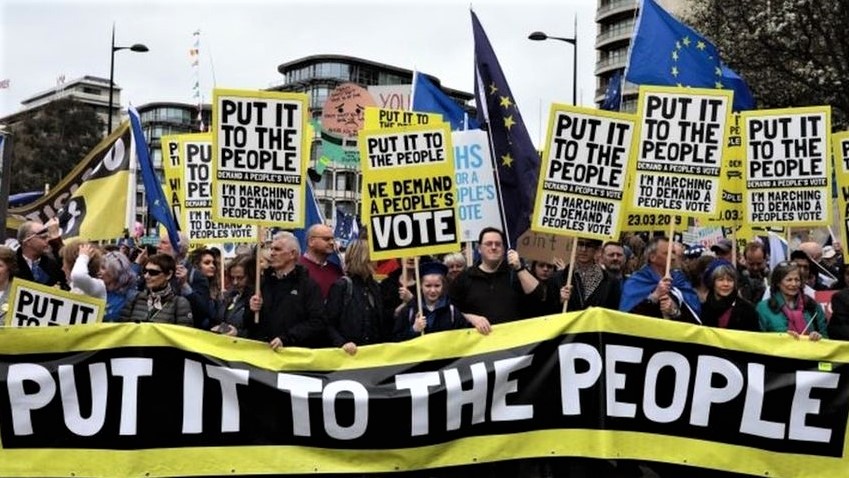 Brexit: London Protesters Mount Pressure On May, Demand Second Referendum
LAHORE MIRROR (Monitoring Desk)– Carrying placards and banners, hundreds of thousands people are marching through central London to call for another EU referendum- another move to pressure Prime Minister Theresa May who is struggling hard to leave Europe.   
The protest continues amid MPs search for a way out of the Brexit impasse.
Demonstrators from the "Put It To The People" campaign are marching from Park Lane to Parliament Square, before rallying in front of Parliament.
It comes after the EU agreed to delay the UK's departure from the EU.
As the impasse over a way forward continues in Westminster, the original Brexit deadline of March 29 has now been pushed to April 12.
Protesters want the government to put any solution to the deadlock to a second referendum.
PM Theresa May is coming under pressure to quit after saying she might not put her Brexit deal to a third vote by MPs.
She wrote to all MPs on Friday saying she will ditch plans to put the deal to another so-called meaningful vote if not enough MPs support it.
Downing Street sources have denied reports in the Times newspaper that discussions are under way about a timetable for the prime minister to step down.
Unless her deal is passed by MPs, the UK will have to come up with an alternative plan or else face leaving without a deal on 12 April.
London Mayor Sadiq Khan tweeted a video of himself joining demonstrators holding up a 'Put it to the People' banner at the front of the march as it began.
He was flanked at the front of the march by Liberal Democrat leader Vince Cable, who tweeted that there was a "huge turnout of people here from all walks of life".
'Disastrous consequences'
The last People's Vote march in October was one of the largest in decades, attracting an estimated 700,000 people.
Among the high-profile figures who announced their participation is London Mayor Sadiq Khan.
"We are now days away from falling off a cliff edge with catastrophic consequences," Khan said. "It's time to take this out of the hands of politicians and put it back to the people."
"No matter how you voted in the referendum, we can all agree that the path we are being forced to follow is not in the national interest," he said.
About 17.4 million Britons – nearly 52 percent of voters – opted to leave the EU in the 2016 referendum, while just over 48 percent voted to remain in the bloc.
The vote redefined the country's politics, drawing new fault lines within Britain's two main political parties, Labour and the Conservatives, as well as its people.
Critics of a second referendum say it would be even more divisive than the first.
In a televised speech on Wednesday, Prime Minister Theresa May told the British public: "I am on your side." She reiterated her determination to deliver Brexit and blamed parliament for the deadlock.
Her words sparked a backlash among MPs who have rejected the withdrawal agreement she negotiated with the EU twice since January.
Petition against Brexit
An online petition to cancel Brexit by revoking Article 50 went viral the following day. By Saturday morning, it had gathered nearly four million signatures.
With only days to go to the UK's scheduled departure date of March 29, EU leaders agreed this week on a dual-deadline mechanism to grant the UK some extra time.
The UK will leave on May 22 if the British parliament passes the deal. If it doesn't, it will have until April 12 to indicate a way forward, which could include asking for a longer extension and agreeing to hold European Parliament elections.
If the deal is voted down again, the government could hold a series of indicative votes to see where consensus lies in Parliament, and a second referendum could be among the options.
However, Parliament rejected an amendment calling for a second referendum during a series of votes in mid-March.
While the Labour leader Jeremy Corbyn will not take part in the march, the party officially supports a second referendum. The party is mulling over endorsing a plan by two of its backbenchers that would see MPs vote for May's deal on the condition it is then put to a public vote.
Recent polls have suggested that if there were a second referendum, Britons could vote to remain in the EU.
A snap poll this week found nearly two-thirds of respondents would prefer remaining in the EU over leaving with May's deal.
SOURCE: BBC NEWS AND AL JAZEERA