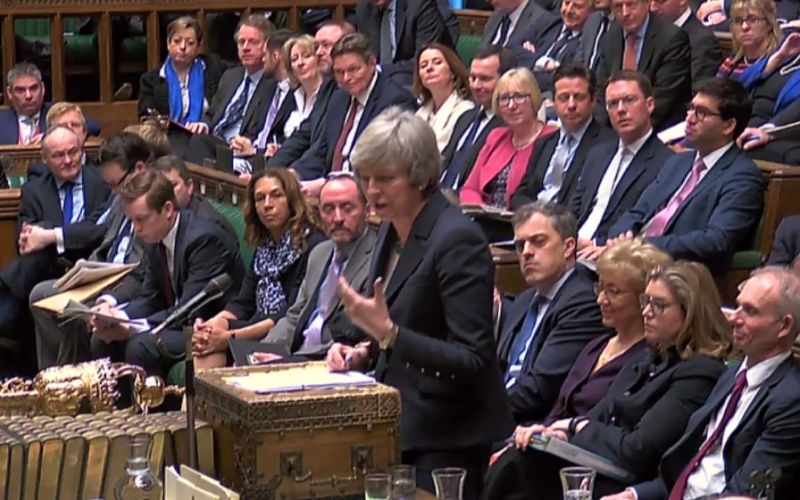 Brexit Deal: UK Prime Minister May Assures Voting By March 12
Postpones vote this week
LAHORE MIRROR (Monitoring Desk)– British Prime Minister Theresa May has postponed an expected "meaningful vote" on her widely humiliated Brexit plan this week, saying MPs may have to wait until March 12 to play their role on the divorce deal.
Talking to media before travelling to a European Union-Arab League summit in Egypt, May ruled out a vote this week and said her Brexit negotiation team would continue talks with EU officials in a bid to secure a deal palatable to British legislators.
"We won't bring a meaningful vote to parliament this week but we will ensure that it happens by the 12th of March," May said.
"It is still within our grasp to leave the European Union with a deal on the 29th of March and that is what we are working to do," she added.
May had been expected to put her proposed divorce deal to a vote in the UK's lower chamber House of Commons on Wednesday.
The latest delay comes after her Brexit plan was resoundingly defeated last month by 230 MPs – the biggest parliamentary defeat in British history – and underlines the difficulty May is having in attempting to get the agreement ratified.
Reacting to May's announcement, the main opposition Labour Party accused the British leader of "recklessly running down the clock in a desperate attempt to force MPs to choose between her deal and no deal".

"This decision to further delay the meaningful vote is the height of irresponsibility… Parliament cannot stand by and allow this happen," Labour's Brexit Secretary Kier Starmer said in a tweet.
Starmer's comments were followed by a pledge from Labour Party leader Jeremy Corbyn to work with other parties' MPs to prevent a no-deal Brexit.
" Theresa May is putting the country at risk by recklessly running down the clock to force MPs to choose between her bad deal and a disastrous no deal," Corbyn said in a tweet.
"Labour will work with MPs across the Commons to prevent no deal, break the deadlock and build support for our alternative plan," he added.
On Sunday, May also rejected calls from members of her own cabinet to extend Article 50 – the exit clause in the EU's constitution – should she lose the rescheduled vote on her withdrawal plan in the House of Commons next month, saying it would not solve the ongoing impasse shrouding British politics.
Three of the May's cabinet ministers suggested on Saturday they would break with the British prime minister and back amendments to delay Brexit unless a deal is agreed in the next week.
SOURCE: AL JAZEERA AND NEWS AGENCIES