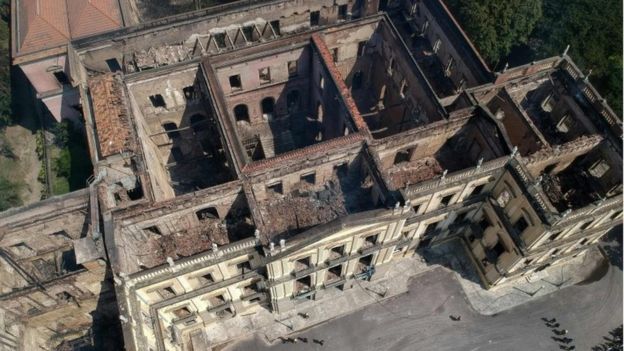 Brazil Museum Fire: Funding Cuts Blamed as Icon is Burned to Ashes
LAHORE MIRROR (Monitoring Desk)– Brazilian officials have blamed lack of funding for a huge fire that has ravaged the country's National Museum.
One of the largest anthropology and natural history collections in the Americas was almost totally destroyed in Sunday's fire in Rio de Janeiro.
This included the 12,000-year-old remains of a woman known as "Luzia" – the oldest discovered in Latin America.
There had also been a string of complaints about the dilapidated state of the 200-year-old museum.
"We never had adequate support," its deputy director said after the fire.
Experts had warned for years of a serious fire risk to the building.
Presidential candidate Marina Silva criticised lack of investment.
"Given the financial straits of the Federal University of Rio de Janeiro and all the other public universities the last three years, this was a tragedy that could be seen coming," Ms Silva, a left-wing politician standing in next month's election, tweeted.
The fire started on Sunday evening, after the building – a 19th Century former royal palace – closed for the day.
The cause is not known, but Culture Minister Sergio Sa Leitao was quoted in Brazilian media as saying it may have been ignited by a small paper hot air balloon landing on the roof.
No injuries have been reported but most of the 20 million items the museum contained went up in flames.
SOURCE: BBC NEWS