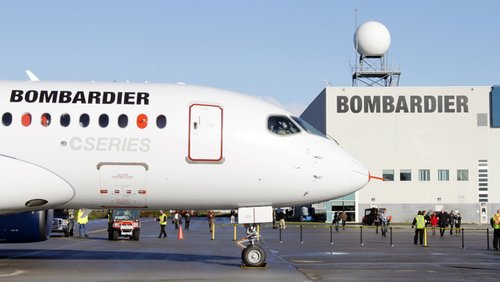 Bombardier Announces 5,000 Jobs Cut Worldwide
LAHORE MIRROR (Monitoring Desk)– Bombardier workers in Northern Ireland and the Midlands face uncertainty after the Canadian company announced 5,000 job cuts globally on Thursday.
The struggling plane and train maker has not said where the cuts will be made over the next 12 to 18 months, but the bulk are expected to go in Canada.
Bombardier employs 70,000 people, including 4,000 at four locations in Northern Ireland, mainly in Belfast.
It also makes trains in Derby in the East Midlands, employing 1,600 there.
Bombardier in Derby said there were no indications yet that the job cuts would have a significant impact in the city.
A Bombardier UK spokesperson said: "We will take the necessary time to evaluate what this means for our Aerostructures and Engineering Services business. We will communicate with our employees in more detail over the coming weeks."
The GMB union, which represents Bombardier workers, said it was demanding answers from the company on behalf of its members.
Michael Mulholland, GMB regional organiser, said: "Bombardier jobs are crucial to Belfast's economy and GMB will fight tooth and nail to save them."

Profits up
The firm will also sell its Q Series aircraft for $900m (£687m) and the de Havilland trademark for $300m.
"We have set in motion the next round of actions necessary to unleash the full potential of the Bombardier portfolio," said chief executive Alain Bellemare.
Earlier this year, Bombardier sold a majority stake in its loss-making C-Series aircraft to Europe's Airbus, with the plane being renamed the A220.
The announcement came as Bombardier unveiled its third-quarter results, in which pre-tax profits doubled to $267m for the three months to September compared with the same period last year.
Sales were down 5% to $3.6bn, but revenue is expected to jump 10% to at least $18bn next year.
Mr Bellemare was brought in three years ago to shore up Bombardier, which was facing serious financial trouble with the C Series programme and had to be rescued by the Quebec government with a $1bn bailout.
SOURCE: BBC NEWS