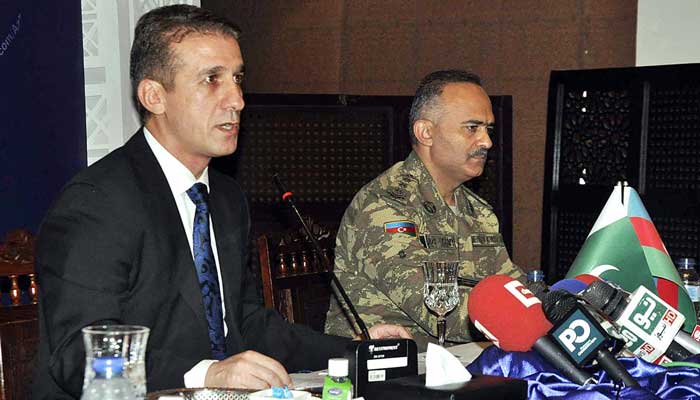 Azerbaijan Thanks Pakistan, Turkey for Unequivocal Support Over Nagorno-Karabakh Conflict
-- Azeri Ombudsman has appealed to world community on attacks of Armenian Armed Forces on Baku-Tbilisi-Ceyhan (BTC) Main Export Oil Pipeline with prohibited cluster munitions
ISLAMABAD– Azerbaijan has thanked Pakistan and Turkey for their unequivocal support in the country's ongoing Nagorono-Karabakh conflict with Armenia.
Addressing a press conference, Azeri Ambassador to Pakistan Ali Alizada condemned the Armenian military's aggression and attacks against Azerbaijan.
He said that Armenia was trying to consolidate the status quo regime based on occupation in Azerbaijani territories rather than accepting UN Security Council resolutions and other international organizations seeking the immediate and unconditional withdrawal of its troops from the occupied territory.
"The provocations carried out by the Armenian leadership, both in word and in deed and attempts to change the dialogue format have dealt a blow to the conflicts settlement process mediated by the OSCE Minsk Group co-chairs," the envoy was quoted by a Pakistani news outlet..
The ambassador also justified Azerbaijan's counter-offensive operations against Armenian attacks saying that they were carried out within internationally recognised territories of Azerbaijan and in compliance with Article 51 of the UN Charter (right of self-defence).
"The responsibility for the escalation of the situation on the front line lies directly with the Armenian military-political leadership. Azerbaijan had no military targets in Armenia and its counter-offensive operation was meant to liberate its lands and force Armenia to make peace," said Alizada.
The envoy urged the world community to adopt a principled stand and condemn Armenia's aggressive actions.
"South Caucasus will never have peace and security until Armenia liberates the occupied lands," he said.
Col Mehman Novruzov, Azerbaijan's military attache in Pakistan, said Armenia was spreading fake information and groundless accusations against his country to involve third parties in the conflict.
Azeri Ombudsman's appeal to world community on attacks of Armenian Armed Forces on Baku-Tbilisi-Ceyhan (BTC) Main Export Oil Pipeline with prohibited cluster munitions
Since 27 September 2020, Armenian armed forces have continued to intensively fire at densely populated residential areas, social, cultural and strategic facilities with use of artillery weapons, rockets, military aircrafts and prohibited cluster munitions. Consequently, there are numerous dead and wounded among the civilian population, as well as the private houses, historical and cultural monuments, administrative buildings and other social objects were severely damaged.
An aggressor Armenia, which is not content with committing these war crimes, has begun to commit acts that may lead to serious environmental consequences for the region, as well as for the energy security of the countries of the region and Europe in general.
Hence, starting from 11 p.m. on October 6, 2020, the occupant Armenian armed forces subjected to fire Yevlakh district, which is densely populated and far from the conflict zone, and the Baku-Tbilisi-Ceyhan Main Export Oil Pipeline passing through this area, with cluster munitions.  The cluster munitions rocket has fallen 10 meters away from the BTC Pipeline in Yevlakh. Fragments of more than 300 cluster bombs were scattered around, and this is a serious threat and danger to the life and health of the civilian population.
The BTC Main Export Oil Pipeline is of great strategic importance for Azerbaijan, Georgia, Turkey and the region as a whole, Europe and the world in general, in economic, political and energy security terms.
As reported earlier, the Armenia's next war crimes are directed not only against the Azerbaijani state, but the whole region and European countries, being targeted at undermining global energy security and causing serious environmental consequences for the region.
I urgently call on all states to react strongly to the next war crime of Armenia, which fired cluster munitions rocket on BTC Main Export Oil Pipeline blatantly violating the norms and principles of international law, including norms of international humanitarian law, and to take urgent measures to stop Armenia's criminal activities, which will affect the energy security of the region and Europe, as well as lead to serious environmental consequences.