Author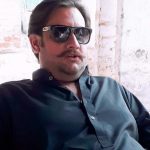 Ch Shoaib Rahim Wathra
Ch Shoaib Rahim Wathra is a seasoned journalist. He is graduate and has vast experience of field journalism in print and electronic media.
Mr Wathra is currently patron-in-chief of Chichawatni Press Club and is special correspondent for Neo TV channel. He writes investigative stories and analysis on different issues besides covering local issues for news channel. He has contested 2002 elections on a provincial assembly seat.
Nothing Found
It seems we can't find what you're looking for. Perhaps searching can help.