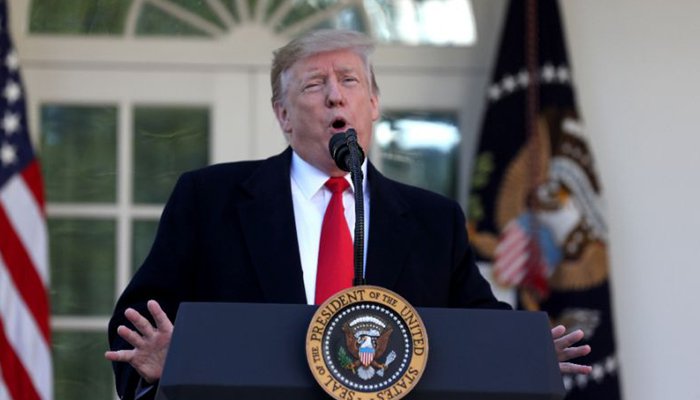 As US-Iran Tensions Escalates Trump Approves $8 Billion Saudi Weapons Sale
LAHORE MIRROR (Monitoring Report)– United States President Donald Trump is approving the sale of billions of dollars' worth of weapons to Saudi Arabia, citing Iranian threats to its arch rival.
Bypassing Congress, Mr Trump invoked a rarely used aspect of federal law to push through the $8bn (£6bn) deal.
He did so by declaring that ongoing tensions with Iran amounted to a national emergency.
The move has angered those who fear the weapons may be used against civilians in Yemen by Saudi-led forces.
Some Democrats accused the president of bypassing Congress because the sale of weapons – including precision-guided bombs – would have been strongly opposed on Capitol Hill.
Weapons will also reportedly be sold to the United Arab Emirates and Jordan.
Members of Congress have heavily criticised Saudi Arabia's human rights record over its role in the Yemen conflict and for the murder of Saudi journalist Jamal Khashoggi in Istanbul last October.
On Friday, Secretary of State Mike Pompeo notified Congress of the administration's decision to make the sale. In a letter, widely reported in US media, he said that "Iranian malign activity" required the "immediate sale" of weapons. "[Iran's] activity poses a fundamental threat to the stability of the Middle East and to American security at home and abroad," he wrote.
He said the transfers "must occur as quickly as possible in order to deter further Iranian adventurism in the Gulf and throughout the Middle East".
Reaction?
The move quickly garnered opposition. Democratic Senator Robert Menendez, who sits on the Foreign Relations Committee, accused Mr Trump of "granting favours to authoritarian countries".
"[He] has failed once again to prioritise our long term national security interests or stand up for human rights," he said in a statement.
Republican Foreign Relations Committee chairman, Senator Jim Risch, said he had been informed by the Trump administration that it planned to confirm "a number of arms sales".
"I am reviewing and analysing the legal justification for this action," he said.
SOURCE: BBC NEWS