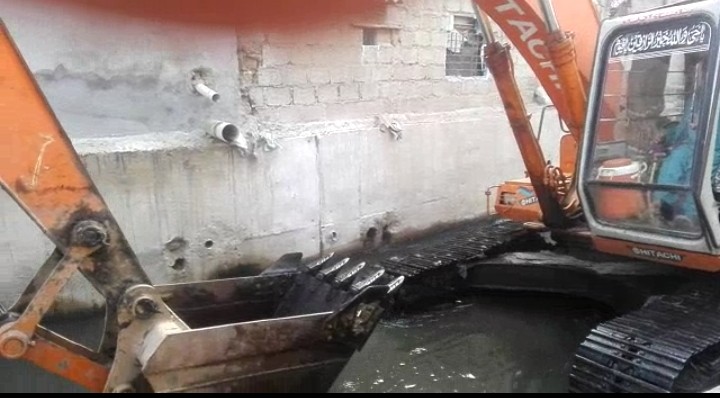 Around 2 Million Cubic Feet Of Silt Shifted To Landfill Sites In 2 Weeks: Najam Shah
By Our Web Reporter
KARACHI– The Sindh government's strategy for cleaning stormwater drains before the monsoon seems to be working. Sindh Local Government Secretary Syed Najam Ahmad Shah while talking in this regard said that as a result of the data provided till June 8 under the drain cleaning campaign started from 26th May, in just 14 days, 19 lacs, 98 thousand, 600 Twenty-five cubic feet of silt has been taken out from drains which have been shifted to landfill sites by 2773 dumpers and further work is in full swing.
According to Najam Ahmad Shah, one and a half thousand dumpers have shifted stormwater drains silt at Gond Pass landfill site and twelve hundred and seventy-three dumpers have shifted stormwater drains garbage to Jam Chakro landfill site.

Giving the details, the Sindh Local Government Secretary said that 477,248 cubic feet of waste from rainwater drains of West District has been transferred in 576 dumpers to landfill sites, 599450 cubic feet of silt from Central Municipality shifted through 778 dumpers, ninety-five thousand cubic feet of waste from Malir Municipality through 160 dumpers, 124539 cubic feet of waste from Korangi District through 144 dumpers and 574245 cubic feet from District South through 972 dumpers has been sent to landfill sites.
Giving views over this excellent performance of the Sindh government, Engineer Syed Najam Ahmad Shah said that due to the continuous guidance of the Honourable Chief Minister and the Minister for Local Government of Sindh, the canal cleaning campaign is progressing rapidly and the stormwater drains are being cleaned in the most effective and smart way.
The Secretary sounded satisfied with the performance of the committee formed for the accomplishment of Nullah's cleaning campaign. Najam Shah vowed that the process of cleaning stormwater drains would be completed soon and the people of the city would not be facing any sort of difficulties in upcoming rains.