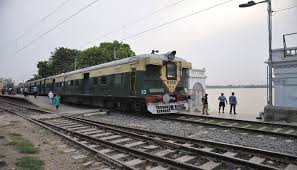 Anti-Encroachment Drive On Karachi Circular Railway Land To Begin Tomorrow
Railway and district administration officials visited the Gharibabad railway track to overlook the anti-encroachment drive. However, as railway and district administration officials reached the track, some store owners who had illegally set-up a furniture market cleared the area themselves.
Speaking to the media after reviewing the illegal encroachments on the railway track land, Additional Deputy Commissioner Wasimuddin said, "Today, we have just come to issue a warning to those who have set-up illegal stores and from tomorrow we will begin to raze the encroachments."
"In the first phase, Gharibabad furniture market will be razed and the railway track will be cleared," he added.
There are encroachments on at least 10 points of the Karachi Circular Railway. Houses have also been built near the railway track on certain points while the land is also been used for parking purposes.