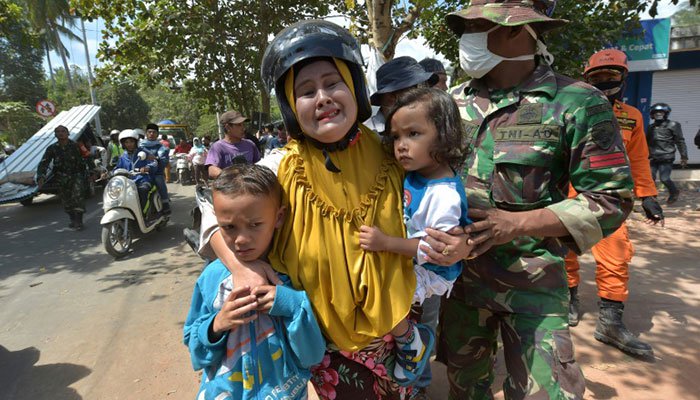 Aftershocks Rock Indonesia's Lombok As Quake Death Toll Tops 300
The death toll from a devastating earthquake on the Indonesian island of Lombok jumped to 319 Thursday, as strong aftershocks triggered panic among traumatised survivors waiting for aid in the worst-hit regions.
The shallow 6.9-magnitude quake Sunday levelled tens of thousands of homes, mosques and businesses across Lombok, with relief agencies only just starting to reach survivors in some of the worst-hit areas four days later.
"Our latest update is that 319 people died," said Indonesia's chief security minister Wiranto, who like many Indonesians goes by one name, adding that rescue efforts were ongoing and complicated by aftershocks.
Around 1,400 people were seriously injured and more than 150,000 displaced, authorities said earlier.
Most of the displaced are sleeping under tents or tarpaulins near their ruined homes or in evacuation shelters that are short of food, clean water and medical help.
Makeshift medical facilities have been set up to treat the injured. Survivors of the quake have also been shaken by hundreds of aftershocks, including a shallow 5.9-magnitude quake Thursday which caused people to flee evacuation shelters crying and screaming.
Motorcycles parked on the street in northern Lombok's Tanjung district toppled over and the walls of some nearby buildings collapsed.
"We were stuck in the traffic while delivering aid, suddenly it felt like our car was hit from behind, it was so strong," witness Sri Laksmi told AFP.
"People in the street began to panic and got out of their cars, they ran in different directions in the middle of the traffic."
'Exceptionally destructive
Authorities and international relief groups have begun organising aid, but badly damaged roads have slowed efforts to reach survivors in the mountainous north of Lombok, which bore the brunt of the quake.