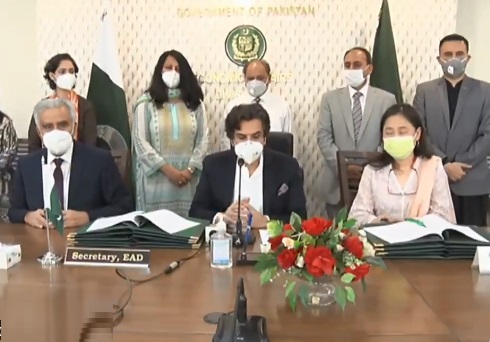 KARACHI– The Asian Development Bank (ADB) will provide Pakistan $359 million for transportation, infrastructure and education projects in Sindh.
A signing ceremony to this effect was held in Islamabad on Saturday which was witnessed by Minister for Economic Affairs Makhdum Khusro Bakhtyar and Country Director ADB Ms. Xiaohong Yang.
Under the first project worth 284 million dollars, the ADB will give a loan of 235 million dollars while Green Climate Fund will provide 37.2 million dollars as loan and 11.8 million dollars as grant for Karachi Bus Rapid Transit.     Karachi BRT aims at reducing overall traffic volume on the roads, improving the overall quality of air through reduced carbon emissions, and an innovative waste-to-fuel scheme for bettering public health and mitigating the effects of climate change on citizens.
The second loan agreement worth 75 million dollars is for "Sindh Secondary Education Improvement Project."
Under this financing arrangement, school infrastructure, institutional capacity building and reforms in the secondary education in the province will be strengthened. The project will be implemented by provincial Education & Literacy Department to construct new secondary school blocks in 10 districts across southern Sindh and improve the teaching capacity of instructors in five key subjects including English, Mathematics, Biology, Chemistry and Physics.
Speaking on the occasion, Minister for Economic Affairs Khusro Bakhtyar reiterated the government's commitment to work tirelessly towards achieving sustainable cities and communities and highlighted the importance of promoting secondary education, especially for girls.
Country Director ADB Ms. Xiaohong Yang said ADB financial support will strengthen Pakistan's economy and reduce the risk of external economic shocks.