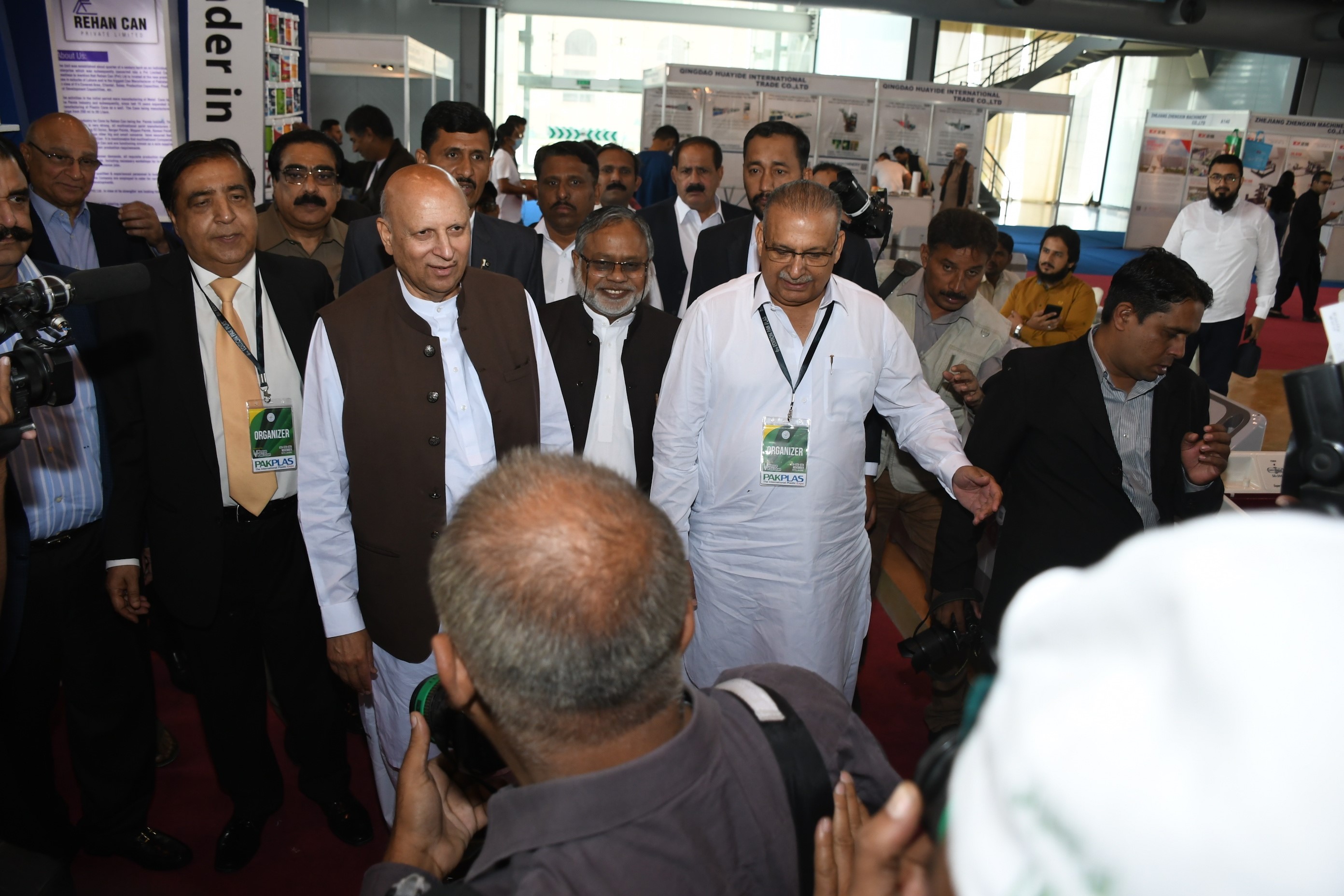 6thPakPlas Expo's Ist Day Attracts 100,000 Visitors and Over 100 Exhibitors
LAHORE– Three-day 6thPAKPLAS Exhibition- Pakistan's largest international show of plastic products and technologies, kicked off at the Lahore Expo Centre on Monday.
A grand inaugural ceremony was held to launch this mega-event orchestrated by the Pakistan Plastic Manufacturers Association (PPMA).
The exhibition has received an overwhelming response from more than 100 local and international exhibitors, while it is expected to attract over 100,000 visitors in three days.
Governor Punjab Mohammad Sarwar and Industries & Information Minister Mian Aslam Iqbal were the chief guest at the vibrant inaugural ceremony.
They were accompanied by the President of PPMA Mr Syed Nabeel Hashmi along with the SVC, VC, Executive Committee and the Chief Patron Mr Usman Zakria. Other prominent personalities attending the ceremony included with numerous foreign exhibitors.
The Chief Guest of the ceremony – Governor Punjab Mr. Mohammad Sarwar and Senior Industries & Information Minister Honorable Mian Aslam Iqbal  stated that: "This progressive exhibition will inspire collective efforts by engaging all the key stakeholders, with enthusiastic participation from the industry, like; Raw-material producers, processors, plastics machinery manufacturers, makers of moulds& dies, traders & importers/exporters of plastics raw Material and producers of finished & semi-finished Goods. Every participant will get to interact, learn and share their ideas to accelerate growth." The Plastic Expo engages all the relevant entrepreneurs and investors on an international scale.
The distinct feature of this show is; besides showcasing the offerings and achievements of Pakistan's plastic industry, it will also feature numerous informative sessions to highlight the technological progress, capabilities, export potential and evolving trends in this sector.
The participating companies include; industrial buyers, experts, entrepreneurs, regulators, investors and professional delegates from international and local enterprises and institutions, who seek new opportunities for expanding their business relations and deliberate on collaborative ventures to enrich this important sector of the economy.
The 6thPAKPLAS enjoys extensive support from the leading enterprises and associations operating in this sector.
The PPMA is a vibrant association committed to enhance cooperation, strengthen and promote the plastics processing industry in Pakistan, while it strives to raise the operational standards and quality of its products.
The PPMA has created the PAKPLAS exhibition as a resourceful platform, which promises to develop stronger bonds among the key players and provide easier access to the national and international markets.
This insightful show will also highlight the contributions of the Plastics Technologies Centre and other Polymer Technical Institutes.— PRESS RELEASE