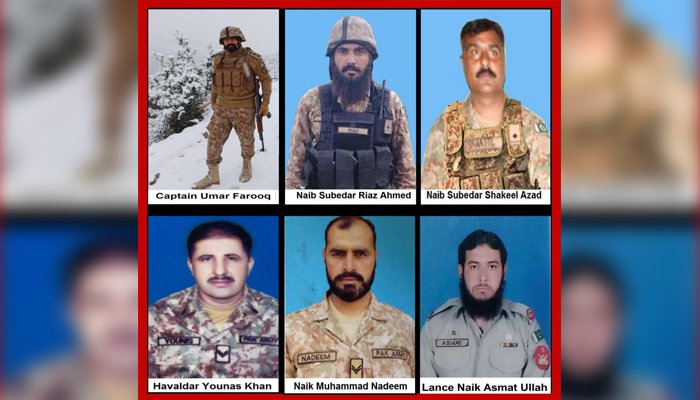 6 Pakistan Army Soldiers Face Martyrdom in North Waziristan IED Attack: ISPR
RAWALPINDI– At least six soldiers were martyred in an improvised explosive device (IED) attack on a security forces convoy in North Waziristan, Inter-Services Public Relations said Thursday.
"Terrorist IED attack on security forces convoy near Razmak, North Waziristan. Resultantly 1 officer and 5 soldiers embraced shahadat," read the statement.
Among the martyred are Capt Umar Farooq, 24 years, Naib Subedar Riaz Ahmed, 37 years, Naib Subedar Shakeel Azad, 44 years, Havaldar Younas Khan, age years, Naik Muhammad Nadeem, 37 years, and Lance Naik Asmat Ullah, 30 years.
CM Punjab Buzdar condemns attack
Punjab Chief Minister Sardar Usman Buzdar has strongly condemned the blast near vehicle of security forces in Razmak area of North Waziristan and expressed a deep sense of sorrow and grief over the martyrdom of captain and five security officials.
The chief minister extended heartfelt sympathies with the bereaved family members of the martyrs. Chief Minister paid tributes to the sacrifice of Capt. Umer Farooq Shaheed, Naib Subedar Riaz Ahmed Shaheed, Shakeel Azad Shaheed, Hawaldar Yunis Khan Shaheed, Naik Muhammad Nadeem Shaheed and Lance Naik Asmat Ullah Shaheed and said that we salute the bravery and courage of the martyrs. Brave sons of soul sacrificed their lives for the peace of the country.
He said that those who embraced shahadat are our heroes. Pakistani nation is united against the terrorists and we will not rest till complete elimination of terrorism from the country, added Usman Buzdar.— PRESS RELEASE