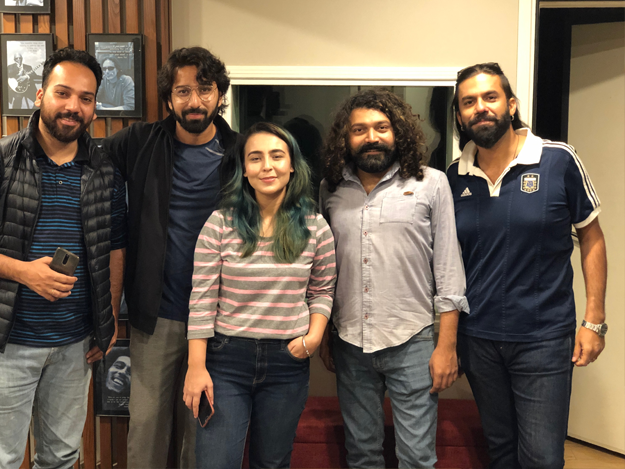 31 Artists Colaborate for Song 'Taare'
LAHORE MIRROR (Monitoring Report)– This marks the first time ever 31 local artists from the Pakistani entertainment industry have collaborated on a single cause. The single has been composed, arranged and produced by Kashan Admani.
The artists have united for a special cause. Admani, the mastermind behind the idea, has brought together musicians and actors to release a new track, titled Taare. Admani joined hands with the non-profit organisation, The Citizen Foundation (TCF) to spread awareness about education for  underprivileged children.
Artists featured in 'Taare' include:
Asad Rasheed from Mizmaar
Alycia Dias
Abbas Ali Khan
Ahsan Bari
Quaid Ahmed from Sounds of Kolachi
Natasha Baig
Rafay Israar
Fahad Ahmed
Zhalay Sarhadi
Nazia Zuberi
Sherry, Omran Shafique, Babar Shaikh from Chaand Tara Ochestra
Bilal, Vais and Shane from Kashmir
Rehan, Saad Hayat from Mirage
Afsheen Hayat
Emad Rehman from Kaya
Hira Mani
Usman Riaz
Umar Naru
Farooq from Aaroh
Ali Khan
Zain,
Shan Rajput
Asad Ahmed
Alfred D'mello
Saif Abbas Rizwan
Waqas Hussain
Kashan Admani
Alex Shahbaz
Highlighting the importance of education in Pakistan, Admani shared, "I created the song with the intention to instill a feeling amongst the privileged community to think of underprivileged children as their own. These children can't afford quality education and they are the country's future. If we do not educate them today, you can only imagine the kind of society we will leave behind for our future generations. Education for all is the need of the hour."
"There are almost 23 million children who do not go to school in Pakistan. They can't afford education and TCF is one organisation committed to providing education to these children. I feel we need to
create songs and use our art about issues that our society faces," he continued.
"That's the reason why I chose to support TCF and started this initiative Music for a Cause under Dreamstation Productions."
When asked about his experience of bringing 31 artists under one roof, Admani added, "Since this was a pro bono venture, we asked all the artists we were in touch with and who were available in Karachi to participate and almost everyone agreed to own the cause and contribute towards it. I wanted this project to have as many contributors as possible so that we could create the needed impact."
Praising Admani's initiative of giving back to society, team TCF stated, "This initiative was led by Kashan Admani and he suggested to contribute to our cause by developing a song to raise awareness about TCF."
Pakistan faces an education crisis of  great proportion. According to Alif Ailaan, a campaign for education reform in Pakistan, there are 22.6 million boys and girls currently out of school. This figure incorporates nearly half (44%) of all the children in the country.
And, those who do attend school receive poor quality education. Forty three per cent of government schools are in a dangerous or dilapidated condition and lack basic facilitates such as furniture, bathrooms, boundary walls, electricity and running water.
SOURCE: THE EXPRESS TRIBUNE