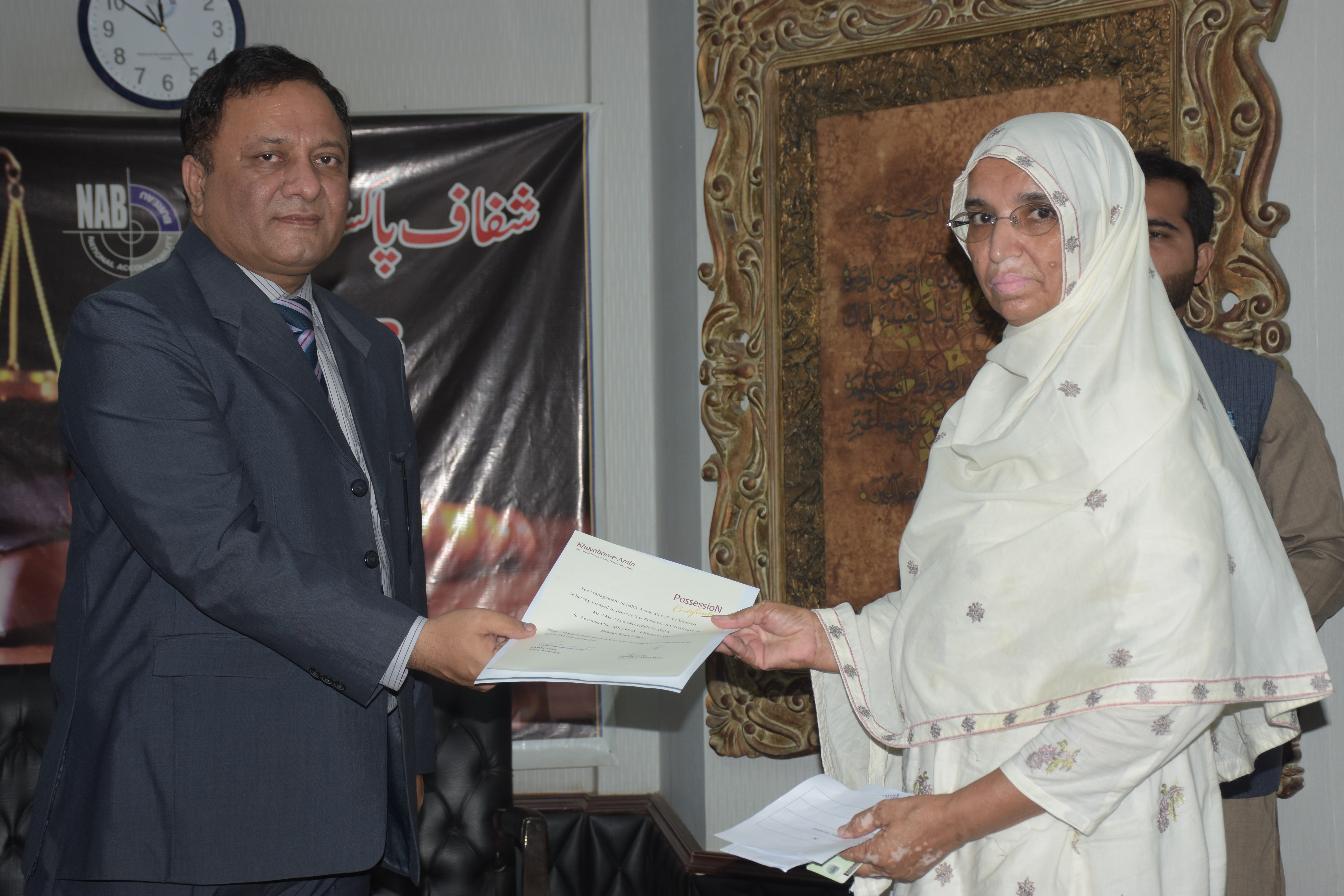 NAB Lahore Distributes Possession Letters Among 472 Affectees of Khayaban-i-Amin Society
LAHORE– National Accountability Bureau (NAB), Lahore organizes a Ceremony to give away Possession Letters (PLs) worth Billion of rupees among 472 affectees of Khayaban-i-Amin Housing Society on Friday.
The distributed Possession Letters comprise of 171 x Apartments and 301 x Plots.
As per details, M/s Sahir Associates Pvt. Ltd. launched a Housing project namely Khayaban-i-Amin Housing Society in 2005-6 and started booking for Houses, Apartments and Plots from 2007 onwards by luring general public to buy on low prices.
The Society Administration promised to deliver booked plots etc within two years duration but failed to do so. After receiving of multiple complaints against Khayaban-i-Amin Housing Society, NAB Lahore took cognizance and got arrested one of the owner (50 percent share partner) accused Allah Ditta Heera whereas, other co-accused Sahir Rasheed took pre-arrest bail to avoid his arrest by NAB. At the time, both accused are on conditional bail acquired for the purpose to accommodate and adjust the issues and matters as promised with affectees of said Society within the deadline being drawn by NAB Lahore.
In October 2018, NAB Lahore arranged a ceremony in which Possession letters of 1400 x Plots and 150 x Houses worth Rs 4.70Billion were handed over to affecttees. Moreover, in two ceremonies held in May 2019 and July 2019, PLs of 1531 x Plots and 443 x Houses were also been handed over among affectees of said society whereas, around 3600 x affectees of Khayaban-i-Amin Housing Society have, so far, been benefited due to the tiresome efforts of NAB Lahore officials.
Chairman NAB Justice Javed Iqbal and DG NAB Lahore have issued clear instructions regarding laying focus on redressal of losses caused to general public than conviction of accused ones.
NAB Lahore has been working to made it possible that every Housing Society in Punjab to display approved map of the society denominating dedicated places for Mosques, Grave yards and roads etc. As per the directions from DG NAB Lahore, NAB team will visit the Society fortnightly to monitor ongoing development work.
At the end, while paying enormous gratitude to Chairman NAB and DG NAB Lahore, affectees of Khayaban-i-Amin Housing Society admired the actions being taken in Housing Sector and remarked that NAB Lahore has addressed the issues being faced to them in a very short duration which has been made possible due to the effective supervision of DG NAB Lahore.— PRESS RELEASE