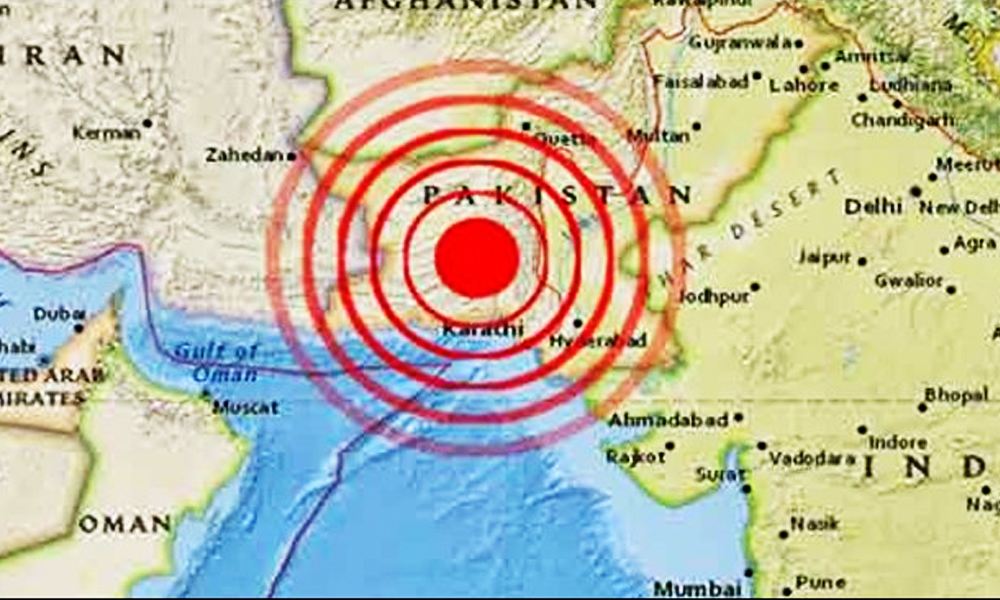 2 killed, 9 Injured After 6.4 Magnitude Eathquake Jolts Parts of Pakistan
-- Quake of magnitude 6.2 strikes Tajikistan-Xinjiang border region: GFZ
By Our Web Desk
LAHORE– A powerful earthquake of 6.4 magnitude jolted parts of the country including Lahore few moments ago. 
Tremors traveled across Faisalabad, Multan, Sheikhupura, Rawalpindi, Marree, Swat, Abbotabad, Peshawer, Swat, Jhelum, Sialkot, Gujrat, Gujarnawala, Bahawalpur and Islamabad.
People also felt shocks in Azad Kashmir, Muzaffarabad and Harripur. The duration of tremor lasted around 40 seconds.
Some parts of Balochistan and Gilgit Baltistan also experienced the quake.
It is reported that a person have been injured after a wall collapsed in Mansehra. Two people were reported unconscious in Mardan. 6 people, including 4 women and 2 children, were injured due to the effects of earthquake said the Deputy Commissioner. Two people were also injured in Bagh. Two people jumped from a hospital in Azad Kasmir and lost their life.
The epicentre of earthquake is said to be Tajikistan, while its intensity was recorded at 6.4 magnitude on the Richter's scale.
People came out of their properties soon after having shocks and asked Almighty Allah for forgiveness.
Jolts were also reported from neighboring countries of India and Afghanistan.
An earthquake originated on 12-02-2021 at 22:02 PST
Magnitude : 6.4
Depth: 80 Km
Lat: 38.12 N
Long: 73.31 E
Epicenter : Tajikistan
PMD, Islamabad#Earthquake #EarthquakeUpdates#EarthquakePH

— Pak Met Department (@pmdgov) February 12, 2021
According to the Seismological Centre Pakistan, the depth of the earthquake was measured at 80km into the ground. Citizens have been advised to remain careful as the aftershocks of the earthquake were expected.
According to Rescue 1122 Punjab, despite such a high-intensity earthquake, no reports of an earthquake-related death have so far been reported.
Similarly, in Khyber Pakhtunkhwa, rescue officials said that citizens could call 1700 to inform the authorities of any losses.
Chief Minister Punjab also reacted on the earthquake. He alerted related departments such as Rescue 1122 and PDMA.
Quake of magnitude 6.2 strikes Tajikistan-Xinjiang border region: GFZ
According to Reuters news agency, an earthquake of magnitude 6.2 struck the Tajikistan-Xinjiang border region late on Friday, the GFZ German Research Center for Geosciences (GFZ) said.
The quake was at a depth of 86 km (53.4 miles), GFZ said.
The US Geological Survey says the depth is approximately 91.6km while magnitude is 5.9.