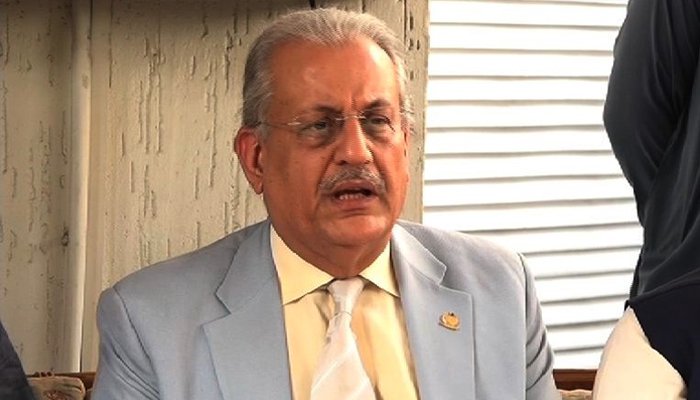 18th Amendment Case: SC Rejects Raza Rabbani's Request To Form Full Bench
ISLAMABAD: The Supreme Court on Friday rejected Pakistan Peoples Party (PPP) Senator Raza Rabbani's request to form a full bench to hear the case pertaining to provincial authority in the 18th Amendment.
A bench headed by Chief Justice of Pakistan Justice Mian Saqib Nisar heard the case regarding a controversy between the federal and Sindh government over the ownership of certain hospitals.
As the hearing went under way, Justice Ijazul Ahsan remarked, "The court is not reviewing the 18th Amendment and the issue before the court is that of the dissolution of certain hospitals on the basis of the 18th Amendment."
Senator Rabbani, who was present in court, said, "A day earlier, the court raised different questions. It would be appropriate if a full bench is formed on this matter."
The court, however, rejected Rabbani's request to form the full bench. Following this, the senator said, "I respect the court's observation and will continue my arguments on the matter. After the 18th Amendment, the 19th Amendment was passed to bring clarity."
Justice Nisar questioned, "If provinces do not try to improve the health sector should the federal government not help? Should provinces be given complete authority over the health sector and will the federal government not be able to play any role in providing people facilities?"
At this, Rabbani said, "It could be that my interpretation is wrong, the Constitution states that the health sector will be overlooked by the province. If provinces do not have authority over hospitals, then the article of the Constitution will lose its value." Justice Nisar remarked, "The court has declared 18th Amendment as constitutional and correct. This is not a politico-legal issue. The issue before us is not that of a small or big province, we should not create that discord and the question before the court is of legality."
"The court only has to determine the legal point. Raza Rabbani Sb you have been involved in a long political struggle and an individual like you should not create discord between big and small provinces," the top judge added.
Addressing Rabbani, the chief justice said, "You want us to leave the poor at the mercy of provincial governments. As per you, the federal government should make hospitals and hand them over to provincial governments. You also want that the federal government only issue grants and the provincial governments have all other roles."
In response, Rabbani said, "Even in the 1935 Constitution, the health sector had been given to provinces." However, the chief justice said, "The British had introduced this law in the subcontinent and Pakistan was made after much struggle. We should start out history with our Constitution."
Rabbani then said, "If federal government interferes in the health sector then it will create disputes between the province and federation."
At this, Justice Ahsan remarked, "The federal government will follow provincial regulations so there will be no disputes."
The senator added, "The state comprises federal, provincial and local governments. The federal government can build hospitals in the provinces but cannot run them. If the federal government builds hospitals and runs them, then Article 137 will lose its value."
Justice Nisar stated, "How will Article 137 lose its value? Raza Rabbani Sb do not give such a big statement."